New and Used Piano For Sale in Toronto
Our goal is simple: to provide our customers with good quality pianos that suit their needs. Whether you are picking up the piano for the first time or you are a seasoned player, we have the best new and used pianos in Toronto and the GTA.
Since 1982 we have sold thousands of pianos, and we have built an ever-growing list of satisfied customers who have come back to us for all of their piano needs.
We take great care of the pianos we have sold to them and we would love to show you what we can offer you! Contact our friendly staff at (416) 230-5560 – we can answer your questions and help you with some friendly advice!
Our new and used pianos come with incredible warranties, free delivery, tuning, and a free piano bench.
All Piano-Related Services Under One Roof
Our piano experts have plenty of experience with all makes and models of pianos. We have been working with these instruments for over 30 years now, and this is what makes us your go-to place for your piano needs. Our knowledgeable staff can help answer any questions you may have about our services, or pianos in general.
We offer piano tuning, piano repairs, piano refinishing, piano restoration, piano moving, piano rentals and more! Our warehouse and showroom has an ever-changing array of quality new and used pianos for sale that we invite you to come see for yourself. You can find us located at 497 Champagne Drive, Toronto, ON, M3J 2C9 in the heart of North York (near Finch Avenue West and Dufferin Street). We look forward to serving you, working with you to find the perfect piano and helping you maintain your instrument so you can enjoy it for many years.
Proudly Selling Pianos in Toronto and the GTA Since 1982
Let our experts help you find the perfect piano for you at the best possible price. Contact us today at (416) 230-5560. When you purchase a piano from us, you can expect:
Shipment in the GTA
Moving a piano can be difficult, which is why we are on hand to deliver your piano anywhere in Toronto and the GTA.
10-Year Warranty
What makes us the best choice for your piano needs? We offer an up to 10-year warranty on new and used pianos.
2 Free Tunings
When you come to us for a new or used piano, we will also provide you with 2 free piano tunings.
We Know Pianos Inside and Out
Here at Universal Piano Services, we're musicians too. This is what makes our people so beneficial to our customers. We make the process of buying a new or used piano easy and stress-free, as we can provide you with all of the information you need to make an informed decision. No matter what you need the piano for, we are confident that our team will help you find one that makes sense for you.
As musicians and people who have been working with pianos for many years, our piano technicians are experts in their field. They specialize in piano tuning, piano repair and piano refinishing. Regardless of the problem, our dedicated staff can help you with advice and piano services. Whether you need to repair a chipped piano key or would like to move your piano to your new home, Universal Piano Services has the best piano technicians in the Greater Toronto Area.
We understand pianos inside and out – from the technical workings to the unique beauty of each instrument. Call today to speak with a friendly, knowledgeable piano technician – (416) 230-5560.
Want to See Our Pianos? Simply Book an Appointment
Our piano warehouse and showroom is home to a large selection of new and used pianos. If you are in the market for a piano for yourself, for your kids or for your institution, then we invite you to come to our warehouse to see our impressive range of pianos from various, reputable brands.
To book an appointment, simply contact our showroom and one of our knowledgeable staff will book a time for you. We schedule individual appointments for our clients so that we can ensure there is someone available to answer any questions you may have regarding purchasing a new or used piano.
Our piano technicians know everything there is to know about the pianos we sell. This is why we provide each customer with an appointment, so that you can have the opportunity to get all your questions answered before choosing the piano that's right for you.
Our warehouse is always stocked with great pianos from Yamaha, Kawai, Steinway, Heintzman, and a variety of Japanese, German, Korean, and European pianos in different colours, sizes and styles!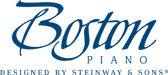 I spent a lot of time looking for our family's piano but I when I went to Universal the decision became easy. There was a great selection of beautifully maintained pianos, and the delivery and tuning was seamless. It was a pleasure dealing with Ilya at Universal Piano. Best to just make an appointment with him as his online inventory is not always up to date!
Very satisfied with the service . Highly recommended. If you are unsure with the unit you're buying , Ilya will give information you need and he will guide you . He's very knowledgeable , nice , funny and entertaining . I purchased the perfect unit that I want based on the info that I received from him and I'm very pleased and happy with the piano . Delivery was on time and they are also nice people . 👍👍👍👍
I am extremely satisfied with my experience at the Universal Piano Services inc. We experienced amazing service from Ilya, from the moment we called him, till the delivery of the piano. He is highly educated and thoughtful, giving us the best advice while we decided on what piano was the perfect fit. We love our piano, and the beautiful music that we can enjoy.
Fantastic experience dealing with the owner of Universal Piano. Ilya is professional, and really knows his stuff. Ilya made my daughter and I feel very comfortable through the buying process of her used Young Chang piano, from the first phone call with Ilya to the delivery of this beautiful work of art, I cannot thank him enough, I would highly recommended Ilya and Universal Piano to anyone looking for a used piano!
This place is like paradise of pianos! Very good pianos and very good service. We purchased exactly the piano we wanted at a good price. After a few days the piano arrived. If a friend asked me I would definitely recommend this place.
We had a great experience with Ilya at Universal Piano Services. He has a wide selection of pianos in his inventory. He was patient with us and answered all of our questions. Thank you Ilya!
I would highly recommend this company for anyone looking for a piano in the GTA. Every aspect of our interaction with Ilya was enjoyable. He is a lovely and honest man who has some excellent pianos in his inventory.
Great workmanship. Fast, professional and reliable. Highly recommend
Great service. Professional and caring. Outstanding work. Thanks Manny.
The owner is friendly and honest.