30+ Years of Experience
We have been working with pianos for almost 40 years. Our skills and expertise set us apart from other companies in Toronto and the GTA.
KNOWLEDGEABLE Experts
Do you have a question about new or used pianos? Our experts are here to give you the answers to any of your questions.
Quality Work
Our team is committed to delivering top-quality work with everything we do for our valued customers.
AFFORDABLE REFINISHING SERVICES
We are very pleased to offer a complete range of Toronto piano refinishing services for a variety of different types of pianos: full-sized uprights, apartment-sized pianos and consoles, and small & large pianos. It brings us great pleasure and satisfaction to see how, little by little, your piano is being transformed from its "as is" look to its original graceful beauty.
OUR REFINISHING SERVICE
The actual process of piano refinishing consists of the following stages:
Removing of the old finish with chemicals and washing the case to get rid of any chemical residue.
The piano is checked and evaluated for any damages to the case, legs, parts, and veneers. All necessary woodworking repairs are made by our shop woodworkers. The cabinet and all parts are sanded, patched, and glued in preparation for staining and priming.
All wood surfaces are stained to a custom wood tone. Stains are sometimes applied in stages to allow for the desired wood tone and texture. We also use grain filling, which is a very important step in the finishing process. Grain filler is thick paste intended to fill wood pores which will help to achieve a smooth, closed-pore, beautiful finish.
Lacquer sealer coats are applied to seal the wood filler and strain and act as a protective barrier to the lacquer finish coats to follow.
The final lacquer finish coats are sprayed. Very meticulous sanding is done after every coat to ensure that the piano attains a beautiful, glowing luster finish.
Once the final coats are completely dry, our technicians will re-assemble all the cabinet parts with beautifully-polished brass or nickel hardware.
BRANDS WE WORK WITH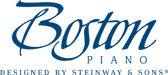 Book Your Appointment
Want to inquire about our piano refinishing service? Then contact us at (416) 230-5560 or fill out the form below. We are open 7 days a week by appointment only.