30+ Years of Experience
We have been working with pianos for almost 40 years. Our skills and expertise set us apart from other companies in Toronto and the GTA.
KNOWLEDGEABLE Experts
Do you have a question about new or used pianos? Our experts are here to give you the answers to any of your questions.
Quality Work
Our team is committed to delivering top-quality work with everything we do for our valued customers.
RELIABLE STORAGE SERVICE
Here at Universal Piano Services, we offer our customers reliable and secure piano storage options. We have been working with pianos for many years now, and we know them inside and out. Thanks to our experience with refinishing, tuning, restoring and repairing pianos, we are your trusted piano experts in Toronto and the GTA.
This means that you can count on us to keep your piano safe and undamaged for as long as you need. Our storing solutions are secure for your peace of mind.
WHY STORE YOUR PIANO?
There can be many reasons why you may need to store your piano in a safe location – and there are just as many benefits to storing it with a reliable piano company like Universal Piano Services. Some of the many benefits to storing your piano with us include:
You can store it safely during a home renovation
You can store it safely during a move to a new home
Prevent damage to the piano Help maintain its value
Save time by having someone else move and store it for you
Save money
BRANDS WE WORK WITH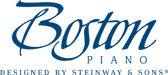 GO WITH PROS YOU CAN TRUST
It's best to go with piano care experts to store your piano because we have extensive experience with handling with this heavy instrument (some pianos can weigh up to 1,200 lbs!).
Going with a DYI approach to storing your piano takes a lot of your time and can lead to unintentional damage to your piano or any of its fragile internal mechanisms. Instead of risking damage to your piano, you can call our piano moving and storage experts in Toronto and the GTA. We will come to you home to safely transport your piano to our secure storage space; and when you need your piano again, we will bring it back unscathed to your home.
Give us a call today at (416) 230-5560 about our storage service and our 'move and tune' discount offer, where we will tune your piano after we move your piano to our storage unit.
Book Your Appointment
Need your piano to be properly and safely stored? Then contact us at (416) 230-5560 or fill out the form below. We are open 7 days a week by appointment only.