30+ Years of Experience
We have been working with pianos for almost 40 years. Our skills and expertise set us apart from other companies in Toronto and the GTA.
KNOWLEDGEABLE Experts
Do you have a question about new or used pianos? Our experts are here to give you the answers to any of your questions.
Quality Work
Our team is committed to delivering top-quality work with everything we do for our valued customers.
HERE TO HELP YOU MAKE THE BEST CHOICE
Purchasing a piano for yourself and your family can create a very gratifying experience and intellectual stimulation. Before you spend money for either a new or a used piano, the right preparation is needed so that you purchase an instrument that is appropriate for your needs and will ensure your musical success.
PIANO EXPERTS
In order to make the right choice, a number of factors should be taken into consideration, such as:
Overall mechanical condition of the piano
Your budget
Your musical needs
Cabinet styles and finish
Amount of space available
Availability of warranty and delivery
BRANDS WE WORK WITH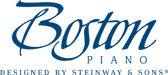 GET IN TOUCH
To assist and help you with your decision-making process, we offer a professional pre-purchase inspection service. Same-day, evening, and weekend appointments are available.
To arrange your inspection and evaluation, please call us today at (416) 230-5560. You can also book an appointment by filling out the contact form below.
Book Your Appointment
Need help with purchasing a piano? Then contact us at (416) 230-5560 or fill out the form below. We are open 7 days a week by appointment only.