30+ Years of Experience
We have been working with pianos for almost 40 years. Our skills and expertise set us apart from other companies in Toronto and the GTA.
KNOWLEDGEABLE Experts
Do you have a question about new or used pianos? Our experts are here to give you the answers to any of your questions.
Quality Work
Our team is committed to delivering top-quality work with everything we do for our valued customers.
HERE TO REPAIR YOUR PIANO
The action becomes uneven and less responsive, and the piano's tone loses its dynamic range. Squeaks and rattles may develop after extended or heavy use. Action parts become severely worn, leather and felt wear thin, keys become wobbly, the hammer felt gets too thin to produce good tome, and the action becomes noisy. In addition, the piano strings may begin breaking and the cooper winding of the bass' strings lose resonance.
WHAT IMPACTS A PIANO'S LOOK?
Due to seasonal changes, the wood of the soundboard, bridges, and pinblock is weakened. All of these changes cause loose of tone. By this time, the piano's finish will often be scratched or faded.
Quite often, these upright and grand pianos represent substantial sentimental value to the owners. These family heirloom pieces should be professionally restored to the best condition possible, so that playing these pianos will continue bringing beautiful memories and enjoyment.
At this stage, you can decide to have your piano to either reconditioned or rebuilt.
QUALITY RESTORATION
Our rigorous and fine quality restoration service may include:
Thorough cleaning
Repair or replacement of damaged parts as needed, typically including hammer filing, felt replacement, replacement of broken strings
Tightening and lubrication of action parts
Adjustment regulation, tuning and voicing to return all parts to their proper function, reduce mechanical noise, and improve tone
REPAIR & REBUILDING
Our quality repair service may include:
Complete disassembly of the cabinet
Repair or replacement of the soundboard, bridges, and pinblock
Replacement of all strings and tuning pins
Thorough restoration of action and damper system, including replacement of hammer, many action parts, strings, and most felt
Rebuilding of the pedal and trapwork system, including replacement of all worn felt, leather and metal parts
Refinishing of the cast-iron plate
Complete action regulation, including multiple tunings to stabilize the new strings
BRANDS WE WORK WITH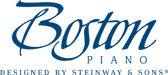 RESTORING THE QUALITY OF YOUR PIANO
We will be happy to help you with technical questions and to offer professional advice in deciding whether your piano needs reconditioning or rebuilding. Please send us any inquiries or questions you might have and we will respond to you promptly. In addition to the above examples, you will find below an brief overview of the different phases of piano restoration.
Over time, pianos naturally ware in terms of their physical appearance as well as their sound quality. Having your piano professionally restored will make it look and sound like new. Additionally, piano restoration extends the life of your piano, so it can continue to look and sound beautiful for years to come. The piano specialists at Universal Piano Services have experience performing piano restoration on all types of pianos, regardless of style, value or age. With Universal Piano Services, you can be confident your piano is in good hands.
Free consultation and estimate, call – (416) 230-5560!
Stay in tune with us!
Book Your Appointment
Want to inquire about our piano repair and restoration service? Then contact us at (416) 230-5560 or fill out the form below. We are open 7 days a week by appointment only.